Boht Tej Lyrics by Badshah is Latest Hindi song sung and written by Badshah, Fotty Seven. The music of new song is also given by them while music video released by Sony Music.
Boht Tej – Fotty Seven Badshah Lyrics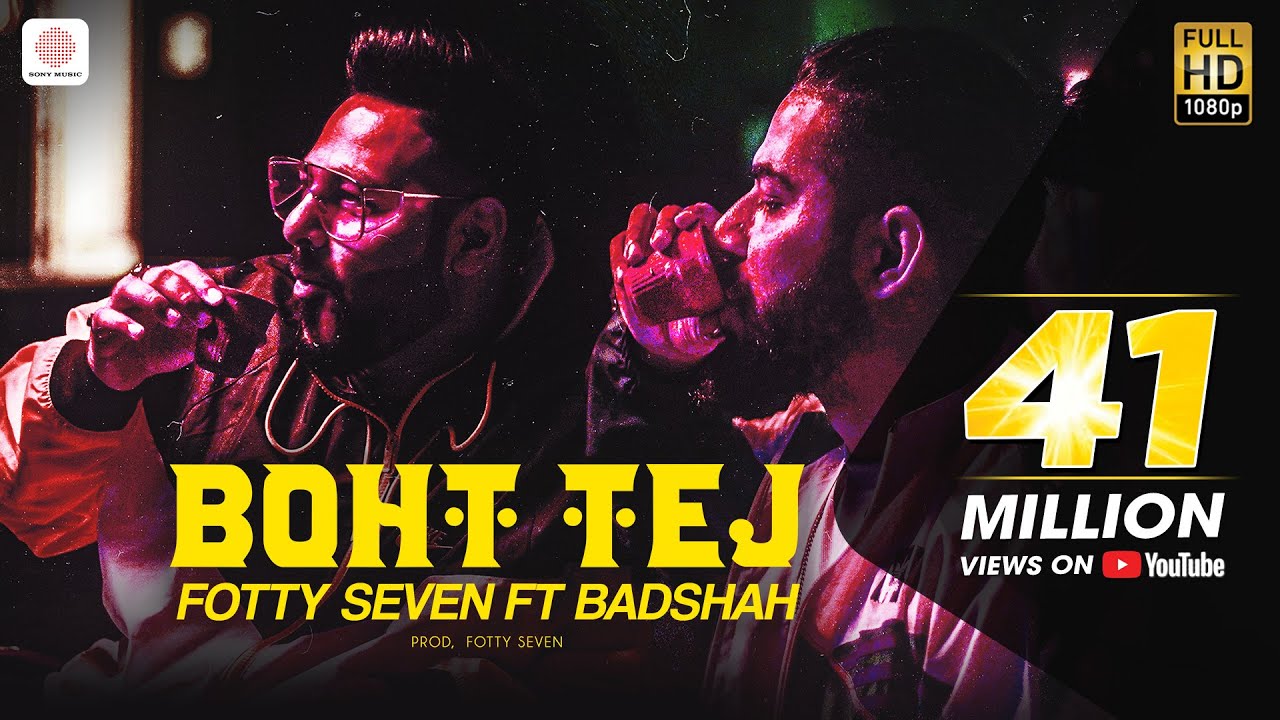 | | |
| --- | --- |
| Singer | Fotty Seven Badshah |
| Music | Fotty Seven |
| Song Writer | Fotty Seven Badshah |
Tere Bhai Ka Naam Kya Hai
Naam 47 Hai

Tere Bhai Ka Naam Kya Hai
Its Your Boy Badshah!

Launde Sun Ke Bata Dete Hai
Bottle Rakhi Jahan Bhi Ab

Road Ni Bachi Jo
Tere Bhai Ne Nahi Naapi Ho
Size Apna Large Hai Size Medium Kyuki
Triceps Pasand Hai Teri Bhabhi Ko

Alava Pyaar Ke Bhi Koi Na Paap Kiye
Kardiye Jugaad Kese Bhi Paise Chaap Diye
Jo Bhi Hai Aaj Mere Paas Mere Naam Pe Hai
Sadak Ko Chod Ke Kyuki Vo Mere Baap Ki Hai

Duniya Bhar Ka Swaad Lena Kaam Apna Roz Ka
Card Me Hai Paise Pur Netflix Chahiye Dost Ka
Andi Vandi Shandi Karke Kardete Hai Ghosna
Jo Ek Pair Pe Nacha Nhi Tu Uski Maa Ka Dosh Na

Bhaiyon Ki Laadai Hogi Aa Jayenge Beech Mein
Matthi Leke Thele Se Hum Pele Chai Kheech Ke
Saste Apne Shauk Kyunki Zindigi Hai Lease Pe
Ladke Apne Tej Fir Bhi Gaadi Rakhe 20 Pe

Tera Bhai Bete Bohot Tej Boht Tej
Tera Bhai Bete Bohot Tej Boht Tej….

Koyi Gangster Nahi Lekin Seedha Bhi Nahi
Launde Rehta Naashe Mein Lekin Peeta Bhi Nahi
Bolun Sach Hath Ke Neeche Geeta Bhi Nahi
Phaadu Aisi Ki Saala Darji Koyi Seeta Bhi Nahi

Bolchal Aisi Hi Hai Chidh Na Tu Jaaiyo
Launde Saare Battameez Bheed Na Tu Jaaiyo
Khali Kar Denge Job Bhi Bara Betha Hai
Sab Kahda Tere Bhai Ka Bas Gala Betha Hai

Rap Game Pe Pakad 10 Saal Rakhi Hai
Poori Industry Chakkron Mein Daal Rakhi Hai
Bollywood Mein Bhasad Tere Bhai Ne Machayi
47 Ne Bhi Delhi Sambhal Rakhi Hai

Jeet-ta Hai Koi Koyi Khele Hai Bohot
Internet Wale Vele Hai Bohot
Ye Toh Galti Se Rapper Ban Gaya
Nahi Toh Tere Bhai Ne 1 Time Pe
Launde Pele Hai Bohot

Tera Bhai Bete Bohot Tej Boht Tej
Tera Bhai Bete Bohot Tej Boht Tej….


Found Any Mistake in Lyrics?, Please Report In Contact Section with Correct Lyrics