Darasal Hindi| Atif Aslam Lyrics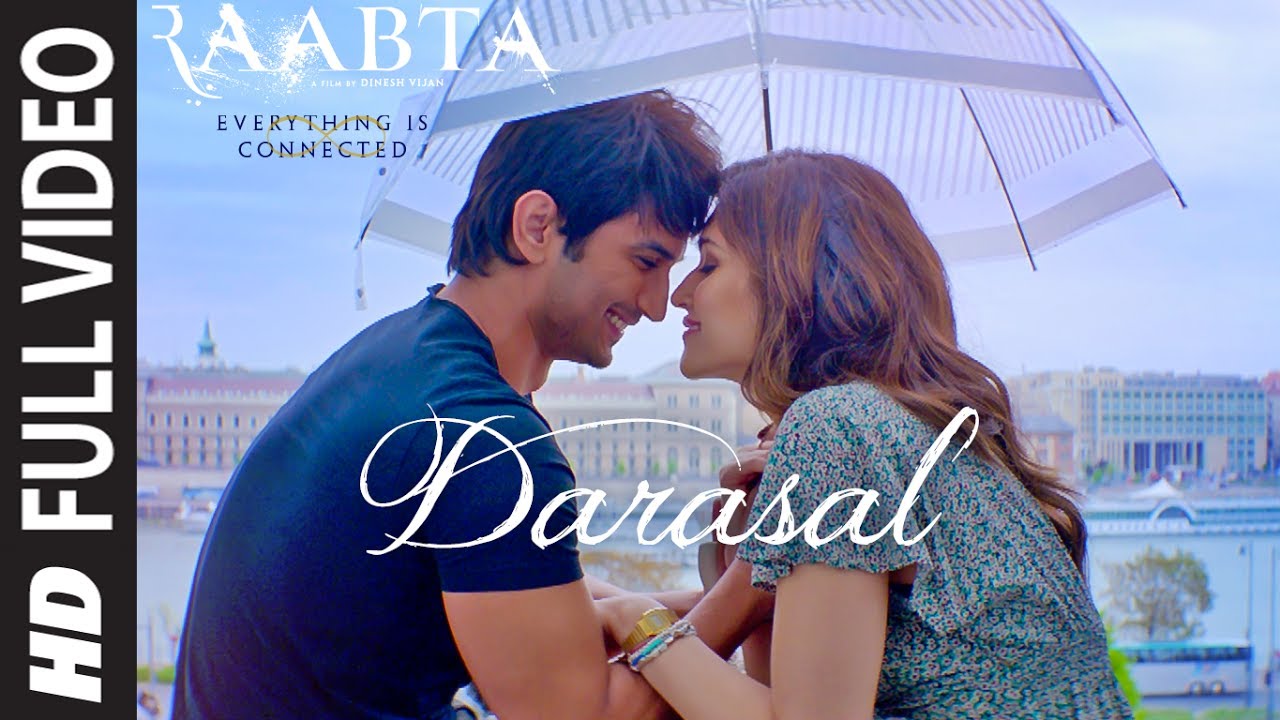 | | |
| --- | --- |
| Song Name | Darasal Hindi |
| Singer(s) | Atif Aslam |
| Lyricist(s) | Irshad Kamil |
| Music(s) | Pritam JAM8 |
| Album | Raabta |
| Music Label | T series |
 Lyricsknow
Darasal Hindi | Atif Aslam Lyrics
Tum toh darasal
Khwab ki baat ho
Chalti mere khyal
Mein tum sath sath ho
Milti hai jo achnak
Wo saugat ho

Tum toh darasal
Mithi si pyaas ho
Lagata hai yeh
Hamesha ki
Tum aas paas ho
Tehra hai jo labo pe
Wo ehsaas ho

Teri ada ada
Pe marta mein
Wafa wafa
Si krta kyu
Hado se hu
Gujarta mein
Zara zara zara

Tum toh darasal
Saanson ka saaj ho
Dil mein mere chupa
Jo wahi raaj raaj ho
Kal bhi mera
Tum hi ho mera aaj ho
Kal bhi mera tum hi ho
Mera aaj ho

Baarish ka paani ho tum
Kagaj ki kasti hu mein
Tujhe mein kahi mein
Beh jata hu

Ho..
Milne hu tumse aata
Wapas nahi ja pata
Thoda wahi mein
Reh jata hu

Oh ..

Tum toh darasal
Ikk naya noor ho
Mujhme bhi ho
Zara si zara door door ho
Jaisi bhi ho
Hamesha hi manzoor ho
Jaisi bhi ho
Hamesha hi manzoor ho

Hota hai aisa aksar
Dil yeh kisi ko dekar
Lagta haseen hai
Saara shehar
Wo…

Ab dekh tera hokar
Aisa asar hai mujh par
Hansta rahoon main
Aathon pehar

Tum toh darasal
Ishq ho pyar ho
Aati mere fasane mein
Tum baar baar ho

Inkar mein jo chupa hai
Wo ikrar ho….
YouTube Video
 Lyricsknow
Darasal Hindi| Atif Aslam Lyrics.
तुम तो दरअसल ख्वाब की बात हो
चलती मेरे ख्यालों में तुम साथ-साथ हो
मिलती है जो अचानक वो सौगात हो
तुम तो दरअसल मीठी सी प्यास हो
लगता है ये हमेशा के तुम आस-पास हो
ठहरा है जो लबों पे वो एहसास हो
तेरी अदा, अदा पे मरता मैं
वफ़ा, वफ़ा सी करता क्यूँ
हदों से हूँ गुज़रता मैं
ज़रा, ज़रा, ज़रा, ज़रा
तुम तो दरअसल साँसों का साज़ हो
दिल में मेरे छुपा जो वही राज़, राज़ हो
कल भी मेरा तुम्हीं हो मेरा आज हो
बारिश का पानी हो तुम
कागज़ की कश्ती हूँ मैं
तुझमें कहीं मैं बह जाता हूँ
मिलने हूँ तुमसे आता
वापस नहीं जा पाता
थोड़ा वहीं मैं रह जाता हूँ
तुम तो दरअसल इक नया नूर हो
मुझमें भी हो ज़रा सी, ज़रा दूर दूर हो
जैसी भी हो हमेशा ही मंज़ूर हो
होता है ऐसा अक्सर
लगता हसीं है सारा शहर
अब देख तेरा हो कर
ऐसा असर है मुझपर
हँसता रहूँ मैं आठों पहर
तुम तो दरअसल इश्क हो प्यार हो
आती मेरे फ़सानों में तुम बार-बार हो
इंकार में जो छुपा है वो इकरार हो.
A little request. Do you like this Post Songs lyrics . So please share it. Because it will only take you a minute or so to share. But it will provide enthusiasm and courage for us. With the help of which we will continue to bring you lyrics of all new songs in the same way.
Found Any Mistake in Lyrics?, Please Report In Contact Section with Correct Lyrics