Kaise Mujhe | Benny Dayal Shreya Ghoshal Lyrics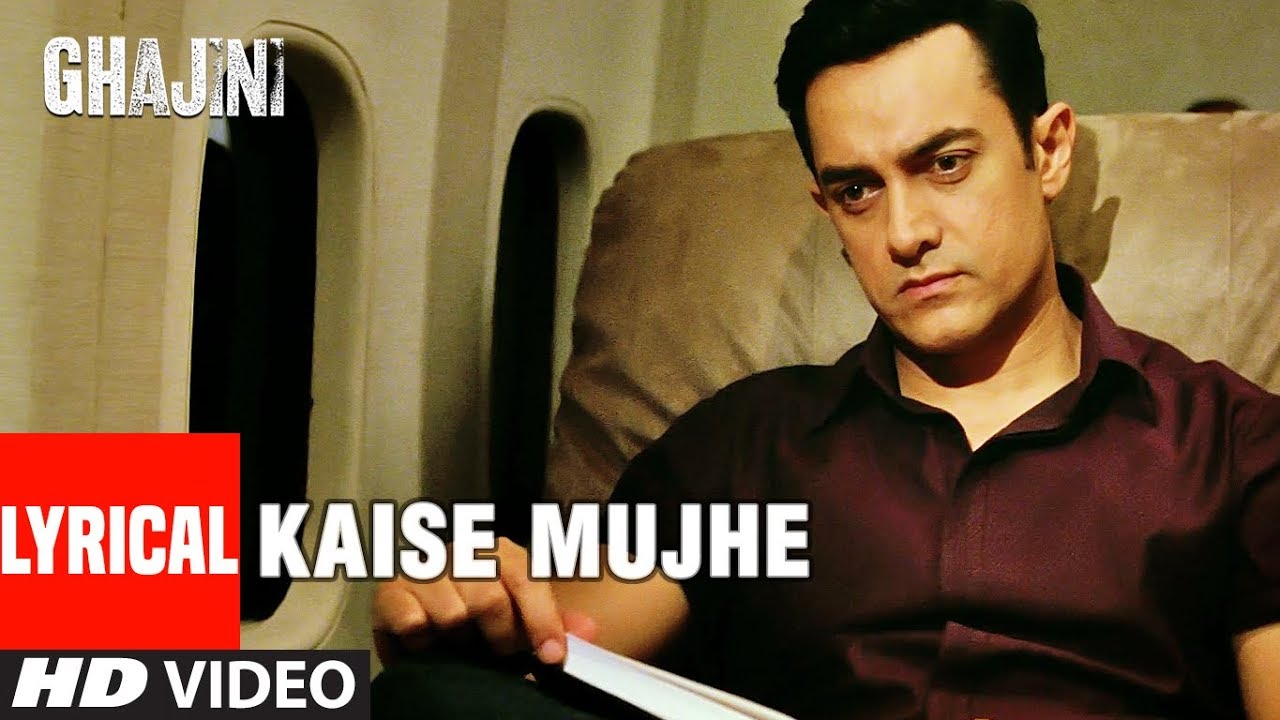 | | |
| --- | --- |
| Song Name | Kaise Mujhe |
| Singer(s) | Benny Dayal Shreya Ghoshal |
| Lyricist(s) | Prasoon Joshi |
| Music(s) | A R Rahman |
| Album | Ghajini |
| Music Label | T series |
 Lyricsknow
Kaise Mujhe | Benny Dayal Shreya Ghoshal Lyrics
Hoo hooo oooo..
Hoo hoo hooo…
Oooo..hoo…hooo..oooo
Hooo hooo…

Kaise mujhe tu mil gayi,
Kismat pe aaye naa yaakeen,
Utar aayi jheel mein jaise chand utarta hai kabhi,
Haule haule dheere se,
Gunguni dhoop ki tarah se taranum mein tum,
Choo ke mujhe guzari hu yu,
Dekhu tumhe ya mein sunu,
Tum ho sukoon, tum ho junoon,
Kyu pehle naa aayi tum?
Kaise mujhe tu mil gayi, hoo hoo..
Kismat pe aaye naa yaakeen, hoo hoo..


Mein to yeh sochta tha ki aaj kal,
Upar wale ko fursat nahi,
Phir bhi tumhe bana ke woh,
Meri nazar mein chadh gaya,
Rutbe mein woh aur badh gaya..

Aaaa..aaaaa…
Aaaa..aaaa….
Hoo..hoo…hooo..

Badle raaste jharne aur nadi,
Badli deep ki timtim,
Chedhe zindagi dhun koi nayee,
Badli barkha ki rimjhim,
Badlengi rituyein adaa,
Par mein rahungi sada,
Ussi tarah teri bahon mein baahein daalke,
Har lamha, har pal..

Aaaa..aaaaa…
Aaaa..aaaa….
Zindagi sitar ho gayi,
Rimjhim malhaar ho gayi,
Mujhe aata nahi kismat pe apni yakeen,
Kaise mujhko mili tum..
YouTube Video
Kaise Mujhe | Benny Dayal Shreya Ghoshal Lyrics.
कैसे मुझे तुम मिल गयी
किस्मत पे आयी ना यकीं
उतर आई झील में
जैसे चाँद उतरता है कभी
हौले हौले, धीरे से
गुनगुनी धूप की तरह से तरन्नुम में तुम
छूके मुझे गुज़री हो यूँ
देखु तुम्हें या मैं सुनू
तुम हो सुकून, तुम हो जुनून
क्यों पहले ना आयी तुम
कैसे मुझे तुम मिल गयी
हो हो..
किस्मत पे आये ना यकीन
हो हो..
मैं तो यह सोचता था
के आजकल उपरवाले को फ़ुर्सत नहीं
फिर भी तुम्हे बनाके वो
मेरी नज़र में चढ़ गया
रुतबे में वो और बढ़ गया
आ आ आ..
बदले रास्ते झरने और नदी
बदले दीप की टीमटीम
छेड़े ज़िंदगी धुन कोई नयी
बदली बरखा की रिमझिम
बदलेंगी ऋतुयें अदा
पर मैं रहूंगी सदा
उसी तरह तेरी बाँहों में बाहें डाल के
हर लम्हा, हर पल
आ आ आ..
जिंदगी सितार हो गई
रिमझिम मल्हार हो गई
मुझे आता नहीं किस्मत पे अपनी यकीं
कैसे मुझको मिल गयी तुम.
A little request. Do you like this Post Songs lyrics . So please share it. Because it will only take you a minute or so to share. But it will provide enthusiasm and courage for us. With the help of which we will continue to bring you lyrics of all new songs in the same way.
Found Any Mistake in Lyrics?, Please Report In Contact Section with Correct Lyrics