Pyar Hua Chupke Se Hindi| Sanam Puri Trishala Garung Lyrics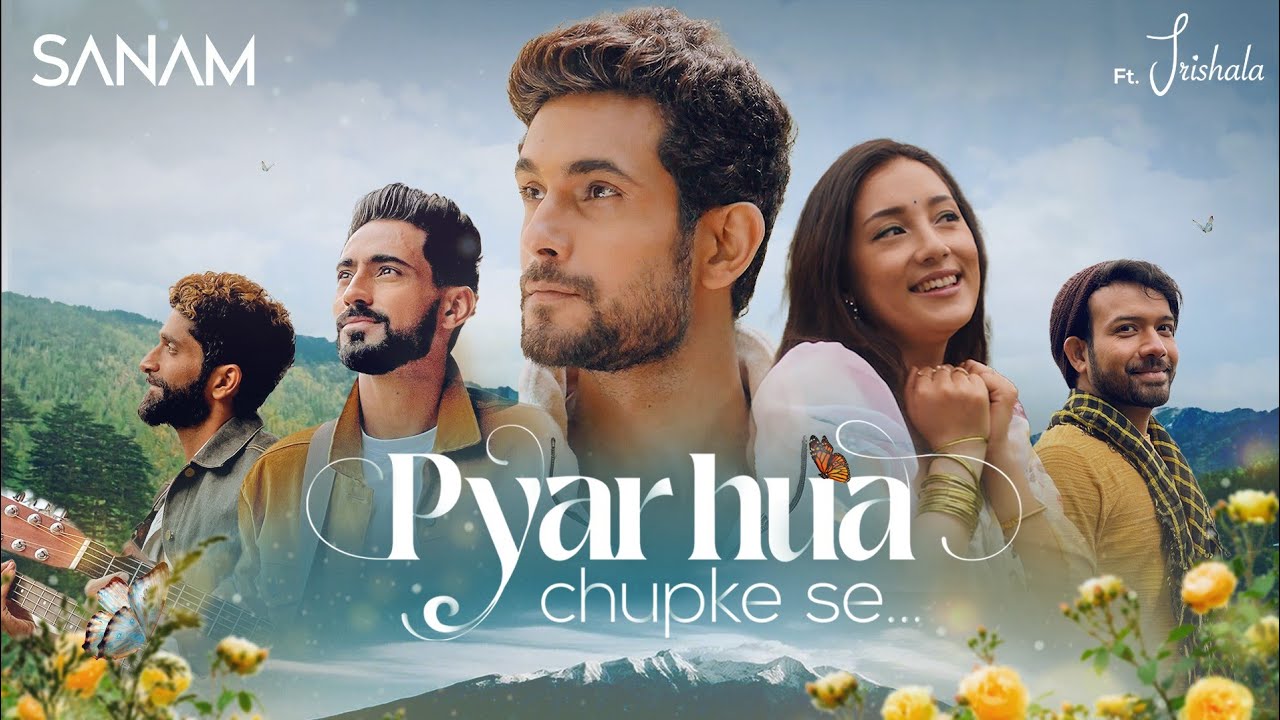 | | |
| --- | --- |
| Song Name | Pyar Hua Chupke Se Hindi |
| Singer(s) | Sanam Puri Trishala Garung |
| Lyricist(s) | Javed Akhtar |
| Music(s) | Sanam band |
| Music Label | Sanam |
 Lyricsknow
Pyar Hua Chupke Se Hindi | Sanam Puri Trishala Garung Lyrics
Dil ne kaha chupke se
Pyar hua chupke se
Kyon naye lag rahe hein
Yeh dharti gagan meine
Maine pucha to boli ye pagli pawaan

Pyar hua chupke se
Yeh kya hua chupke se



Kyon naye laag rahe hein
Ye dharti gagan meine
Pucha toh boli yeh pagli pawaan
Pyar hua chupke se
Yeh kya hua chupke se

Titliyon se suna
Meine kissa bagh ka
Bagh me thi ek kali
Sharmeeli unchuyi

Ek din manchala
Bhanwara aa gaya
Khil uthi woh kali
Paya roop naya
Pochchti thi kali
Yeh mujhe kya hua
Phool hansa chupke se
Pyar hua chupke se


Maine badal se kabhi
Yeh kahani thi sunee
Parvaton ki ek nadee
Milne sagar se chali

Jhoomti ghoomti
Ho nachtee dolti


Kho gayi apne sagar me
Ja ke nadee dekhne
Pyar ki aisi jadugari
Chand khila chupke se
Pyar hua chupke se
YouTube Video
 Lyricsknow
दिल ने कहा चुपके से
यह क्या हुआ चुपके से
क्यों नए लग रहे हैं
यह धरती गगन मैंने
मैंने पूछा तो बोली यह पगली पवन
प्यार हुआ चुपके से
यह क्या हुआ चुपके से
क्यों नए लग रहे हैं
यह धरती गगन मैंने
पूछा तो बोली यह पगली पवन
प्यार हुआ चुपके से
यह क्या हुआ चुपके से
तितलियों से सुना

तितलियों से सुना मैंने किस्सा बाघ का
बाघ में थी एक कली
शर्मीली ुंचूई
एक दिन मनचले भंवरे आ गया
खिल उठी वह कली पया रूप नया
पोच्चति थी कली
यह मुझे क्या हुआ
फूल हँसे
प्यार हुआ चुपके से
मैंने बदल से कभी
मैंने बदल से कभी
यह कहानी थी सूनी
पर्वतों की एक नदी
मिलने सागर से चली
झूमती घूमती
खो गयी अपने सागर में
जा के नाड़ी देखने
प्यार की ऐसी जादुगरी
चाँद खिला चुपके से…
प्यार हुआ चुपके से
यह क्या हुआ चुपके से
क्यों नए लग रहे हैं
यह धरती गगन मैंने
पूछा तो बोली यह पगली पवन
प्यार हुआ चुपके से
यह क्या हुआ चुपके से
क्यों नए लग रहे हैं
यह धरती गगन मैंने
मैंने पूछा तो बोली यह पगली पवन..
Original Song Credits: Singer: Kavita Krishnamurthy Music Director: R D Burman Lyrics: Javed Akhtar Film: 1942 A love Story Label: Saregama India Limited
A little request. Do you like this Post Songs lyrics . So please share it. Because it will only take you a minute or so to share. But it will provide enthusiasm and courage for us. With the help of which we will continue to bring you lyrics of all new songs in the same way.
Found Any Mistake in Lyrics?, Please Report In Contact Section with Correct Lyrics