Tumsa Koi Pyaara Bhojpuri| Pawan Singh Priyanka Singh Lyrics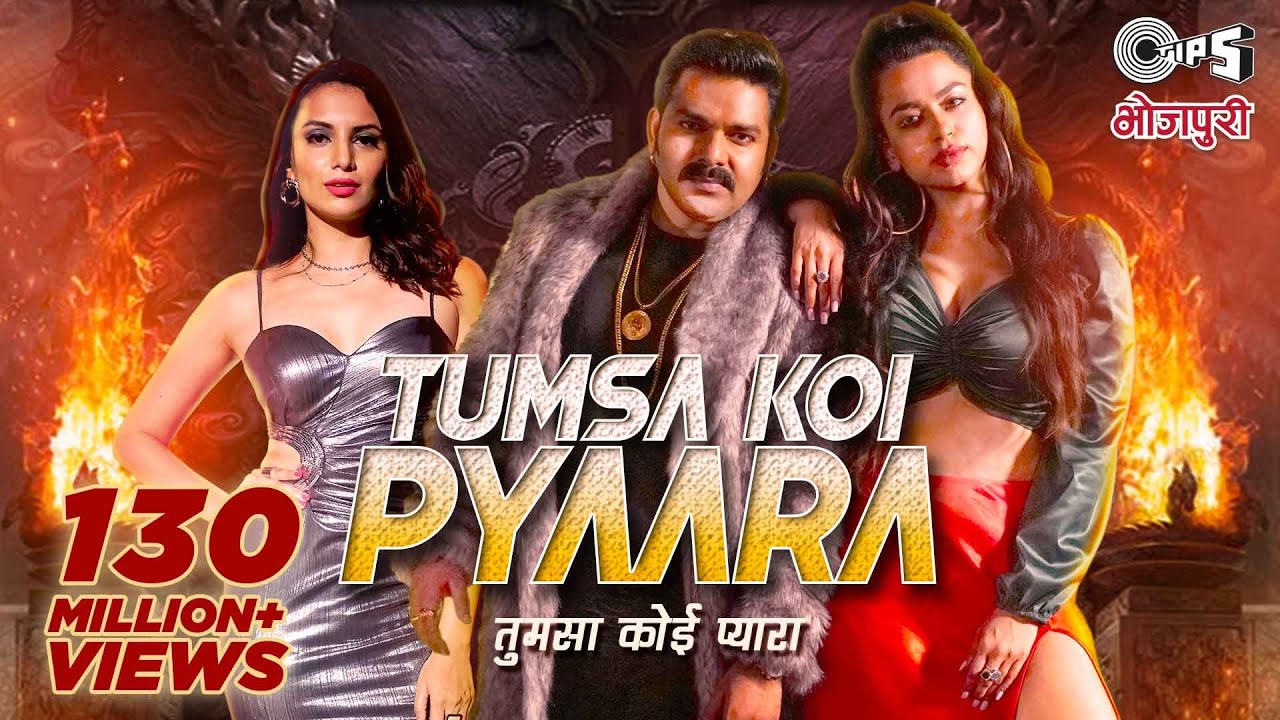 | | |
| --- | --- |
| Song Name | Tumsa Koi Pyaara Bhojpuri |
| Singer(s) | Pawan Singh Priyanka Singh |
| Lyricist(s) | Raushan Singh Vishwas |
| Music(s) | Priyanshu Singh |
| Music Label | Tips Bhojpuri |
 Lyricsknow
Tumsa Koi Pyaara Bhojpuri | Pawan Singh Priyanka Singh Lyrics
Hum Dekhile Roje Ehai Gaur Se Raaur Chakkar Chalataa Kehu Aur Se
Hum Dekhile Roje Ehai Gaur Se Raaur Chakkar Chalataa Kehu Aur Se

Roj Kartein Hain Kya Sab Mujhe Hai Pata
Aap Hi Boliye Kya Baat Ye Sahi Hai
Tumsa Koi Pyara Koi Masoom Nahi Hai
Tum Jan Ho Meri Tujhe Maloom Nahi Hai

Tumsa Koi Pyara Koi Masoom Nahi Hai
Tum Jan Ho Meri Tujhe Maloom Nahi Hai

Deli Raaur Aana Jaana Lagal Rahta
Dil Pe Hath Dhake Dekha Ka Kahata
Deli Raaur Aana Jaana Lagal Rahta
Dil Pe Hath Dhake Dekha Ka Kahata


Kahan The Rat Bhar Sab Mujhe Hai Khabar
Kaun Hai Jo Ye Jadu Chala Rahi Hai
Tumsa Koi Pyara Koi Masoom Nahi Hai
Tum Jan Ho Meri Tujhe Maloom Nahi Hai
Tumsa Koi Pyara Koi Masoom Nahi Hai
Tum Jan Ho Meri Tujhe Maloom Nahi Hai

Sochatani Jetna Nadan Naikhi Hum
Dhokha Naikhi Karat Janu Mummy Kasam

Sochatani Jetna Nadan Naikhi Hum
Dhokha Naikhi Karat Janu Mummy Kasam

Kaise Kari Vishwas Rausan Tum Ho Badmas
Pawan Jiska Tha Dar Hamko Bat Wahi Hai
Tumsa Koi Pyara Koi Masoom Nahi Hai
Tum Jan Ho Meri Tujhe Maloom Nahi Hai

Tumsa Koi Pyara Koi Masoom Nahi Hai
Tum Jan Ho Meri Tujhe Maloom Nahi Hai
YouTube Video
 Lyricsknow
Tumsa Koi Pyaara Bhojpuri| Pawan Singh Priyanka Singh Lyrics
हम देखिले रोज़े इहे गौर से राउर चक्कर चलता केहु और से
हम देखिले रोज़े इहे गौर से राउर चक्कर चलता केहु और से
रोज करते है क्या सब मुझे है पता आपही बोलीये क्या बात ये सही है
तुमसा कोई प्यार कोई मासूम नही है तुम जान हो मेरी TUJHE मालूम नही है
तुमसा कोई प्यार कोई मासूम नही है तुम जान हो मेरी TUJHE
मालूम नही है
डेली राउर आना जाना लागल रहता
दिल पs हाँथ धके देखs का कहता
डेली राउर आना जाना लागल रहता
दिल पs हाँथ धके देखs का कहता
कहाँ थे रात भर सब मुझे है खबर कौन है जो ये जादू चला रही है
तुमसा कोई प्यार कोई मासूम नही है तुम जान हो मेरी TUJHE मालूम नही है
तुमसा कोई प्यार कोई मासूम नही है तुम जान हो मेरी TUJHE
मालूम नही है
सोचतानी जेतना नादान नइखी हम धोखा नइखी करत जानू मम्मी कसम
सोचतानी जेतना नादान नइखी हम धोखा नइखी करत जानू मम्मी कसम
कैसे करी विश्वास रौसन तुम हो बदमास पवन जिसका था डर हमको बात वही है
तुमसा कोई प्यार कोई मासूम नही है तुम जान हो मेरी TUJHE मालूम नही है
तुमसा कोई प्यार कोई मासूम नही है तुम जान हो मेरी TUJHE
मालूम नही है नही है.
A Little Request, Do You Like This Post Songs Lyrics . So Please Share It. Because It Will Only Take You A Minute Or So To Share.But it Will Provide Enthusiasm and Courage for Us. With The Help Of Which We Will Continue To Bring You Lyrics Of All New Songs In The Same Way.
Found Any Mistake in Lyrics?, Please Report In Contact Section with Correct Lyrics.