Woh Raat Lyrics.The Latest Hindi Song Sung By Raftaar and KR$NA. The song is written by Raftaar with KR$NA and music composed by lejJA. Starring KR$NA and Raftaar.
Woh Raat Lyrics – Raftaar KR$NA Lyrics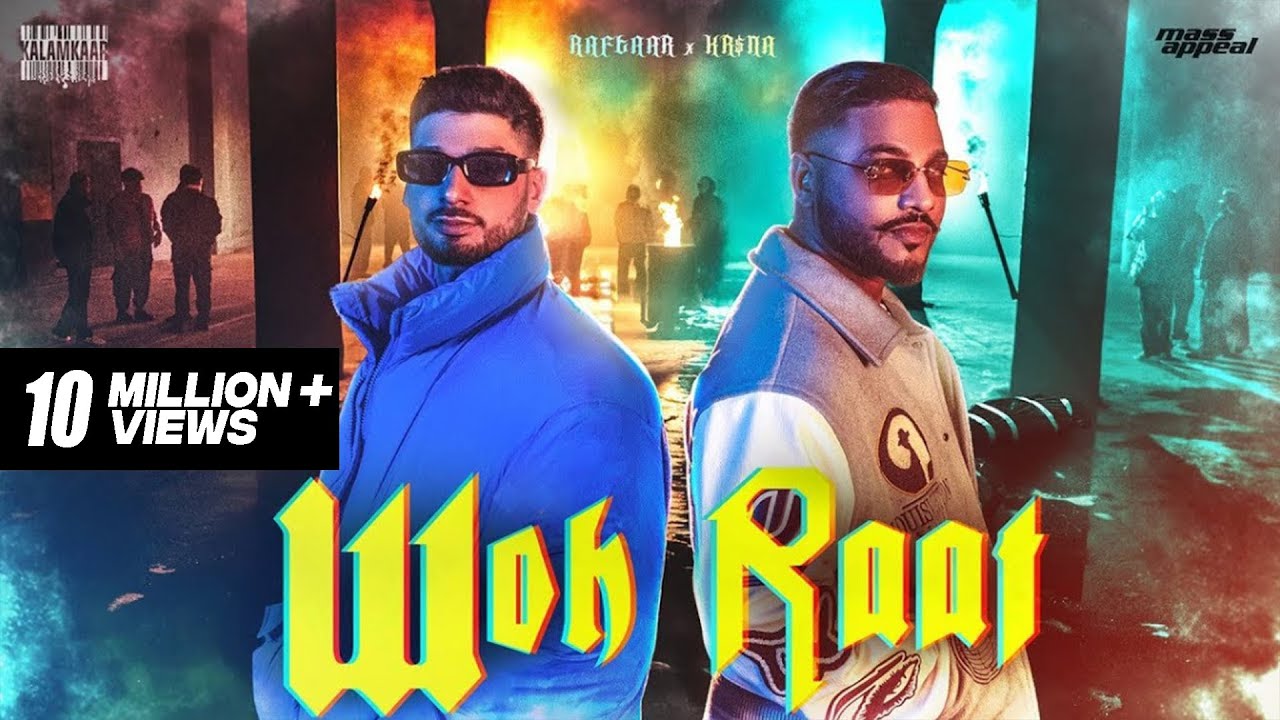 | | |
| --- | --- |
| Singer | Raftaar KR$NA |
| Music | lejJA |
| Song Writer | Raftaar KR$NA |




Yeah, it's that double R
Grr, pa
Dollar sign, one time

Kabhi woh raat aayegi
tumhein har baat keh dunga
Mere andar daba hai jo
sabhi jazbaat keh dunga.

Aah, aah, yeah, double R

Karun-karun tujhe sit down Ho
Tere baap ko kiya hai tune let down Ho
Karna padega tumhein step down Ho
Raho ghutne pe bina bole, "Get down" Ho
Woh bole mujhe, "Dumb it down",
we don't understand, I bet that Ho
No tic-tac-toe, let go like click-clack-pow
Bachenge na bhaage chahe zig-zag woh Zig-zag woh
Rishte mein lagta hun baap, chalo mere, chalo mere, nakshe-kadam Nakshe-kadam, haan
Hasta hun karke bhi paap,
gaadun toh hote na bakse khatam
Holy Father, kabhi soya nahi goli khaakar
Do boli likhe nahi kabhi molly khaakar
Faili poora meri itni chaadar,
poora bistar uska mera bed ka border
I press recording, dabta R, wahin dabe,
baaki kahin bhi na dabta R
Mere gale mein hi laga hua compressor
Lein kam pressure tabhi bane CR
To the R, to the K to the K
Galti ki halke mein leke humein
Galti se daane na faikein humein
Paisa loon poora, bande bhi AK rakhe
You might also like
Diljit Dosanjh, Sia & Greg Kurstin –
Hass Hass Romanized
Genius Romanizations
Woh Raat
Raftaar & KR$NA
One Love
Shubh

Kabhi woh raat aayegi, tumhein har baat keh dunga
Mere andar daba hai jo, sabhi jazbaat keh dunga

Dollar sign, grr, pa

It's K repping double K, double R saath
Charge up jaise double A, chale vardaat
Haalaat hain na badle, kare aar-paar
Mehnat agar double hai toh double R cross
I'll be the best to karun beat pe flex and leave you stressed
In beat pe toh jeeb ye weapon
Teach a lesson, lage mujhe weak hai section
Latex will step in, I don't need protection (Brr)
Baar-baar jeeta, na kabhi haarta haath hai
Kabhi na karun baat, na kabhi vaartalaap hai
Maar-kaat nahi, main toh gaadta jaake
Bahar dhamake hote jab main faadta aake Yeah
Aise kyu lage that I got no feeling
Kyuki chaudah pe dekhe the maine bohot se killings
Skengs and chingin' on the opp block spinnin'
I be drillin' with Dilin, I kill 'em all 'n' I'm winnin'
Bole mujhe, chill mere dil mein nahi hai
Real life mein hote kill, ye film'ein nahi hai Na
Smoke mile real, bol, "Chillum'ein chahiye"
Skill jo chahiye, kabhi dekha inmein nahi hai
Yeh tule hain badle pe,
rahein yeh sadme mein,
jab tak hum pakdein yeh pen Yeah
Dollar sign, one time, 'cause I hit one time then I'm never gon' see her again Grr, pa
[Chorus: Raftaar]
Kabhi woh raat aayegi,
tumhein har baat keh dunga

F***-F***-F*** the hook, aanh

Step up in a party (Ayy),
aankhon mein Cartier (Ayy)
Tinted rakhi gaadi
Loon teeka body mein,
rahkta na tatte dehadi (Tatte dehadi)
Fan nahi fam mere bhai
Doon gawahi, saare monster hai Gojira Kaiju
Fan inke brain-dead hai, trained for the lie
Goo khaye jo sattar se bahattar hai IQ
Inke dost nahi, ghost kare write (Kare write)
Inhe sapne mein dikhe mera bhoot (Mera bhoot)
Maine itno ko roti khilayi,
meri khudki na miti kabhi bhook (Na)
Sab chahiye, kab chahiye? Ab chahiye
Bharpai nahi pie-pie, gazab chahiye
Sky high toh Mike Ty' ka jag chahiye
Fuck a jag, mujhe ab saara jagg chahiye
(I want the world)
Sateh ke upar hai lava (Lava),
sateh ke neeche hai magma
Kama lun main rap se paisa par
gaayab na hoga ye Jack Ma, yeh mera mahkama

Kabhi woh raat aayegi, tumhein har baat keh dunga
Mere andar daba hai jo, sabhi jazbaat keh dunga
Kabhi woh raat aayegi Woo
tumhein har baat keh dunga Grrah
Mere andar (Aanh) daba hai jo Aanh
sabhi jazbaat keh dunga-ga-ga-ga.






---
Woh Raat Lyrics in Hindi
Yeah, it's that double R
Grr, pa
Dollar sign, one time
कभी वो रात आएगी, तुम्हें हर बात कह दूँगा
मेरे अंदर दबा है जो, सभी जज़्बात कह दूँगा
(Aah, aah, yeah, double R)
करूँ-करूँ तुझे sit down (Ho)
तेरे बाप को किया है तूने let down (Ho)
करना पड़ेगा तुम्हें step down (Ho)
रहो घुटने पे बिना बोले, "Get down" (Ho)
वो बोले मुझे, "Dumb it down", we don't understand, I bet that (Ho)
No tic-tac-toe, let go like click-clack-pow
स
बचेंगे ना भागे चाहे zig-zag वो (Zig-zag वो)
रिश्ते में लगता हूँ बाप, चलो मेरे, चलो मेरे, नक्शे-कदम (नक्शे-कदम, हाँ)
हसता हूँ करके भी पाप, गाड़ूँ तो होते ना बक्से ख़तम
Holy Father, कभी सोया नहीं गोली खाकर
दो बोली लिखे नहीं कभी molly खाकर
फैली पूरा मेरी इतनी चादर, पूरा बिस्तर उसका मेरा bed का border
I press recording, दबता R, वहीं दबे, बाकी कहीं भी ना दबता R
मेरे गले में ही लगा हुआ compressor
लें कम pressure तभी बने CR
To the R, to the K to the K
गलती की हल्के में लेके हमें
गलती से दाने ना फेंकें हमें
पैसा लूँ पूरा, बंदे भी AK रखें
You might also like
Raftaar & KR$NA – Woh Raat (Romanized)
Genius Romanizations
Hass Hass
Diljit Dosanjh, Sia & Greg Kurstin
Red Button
Drake
कभी वो रात आएगी, तुम्हें हर बात कह दूँगा
मेरे अंदर दबा है जो, सभी जज़्बात कह दूँगा
(Dollar sign, grr, pa)
It's K repping double K, double R साथ
Charge up जैसे double A, चले वारदात
हालात हैं ना बदले, करे आर-पार
मेहनत अगर double है तो double R cross
I'll be the best तो करूँ beat पे flex and leave you stressed
इन beat पे तो जीभ ये weapon
Teach a lesson, लगे मुझे weak है section
Latex will step in, I don't need protection (Brr)
बार-बार जीता, ना कभी हारता हाथ है
कभी ना करूँ बात, ना कभी वार्तालाप है
मार-काट नहीं, मैं तो गाड़ता जाके
बाहर धमाके होते जब मैं फाड़ता आके (Yeah)
ऐसे क्यूँ लगे that I got no feeling
क्यूँकि चौदह पे देखे थे मैंने बहुत-से killings
Skengs and chingin' on the opp block spinnin'
I be drillin' with Dilin, I kill 'em all 'n' I'm winnin'
बोले मुझे, chill मेरे दिल में नहीं है
Real life में होते kill, ये film'ein नहीं है (ना)
Smoke मिले real, बोल, "चिल्लमें चाहिए"
Skill जो चाहिए, कभी देखा इनमें नहीं है
ये तुले हैं बदले पे, रहें ये सदमे में, जब तक हम पकड़ें ये pen (Yeah)
Dollar sign, one time, 'cause I hit one time then I'm never gon' see her again (Grr, pa)
[Chorus: Raftaar]
कभी वो रात आएगी, तुम्हें हर बात कह दूँगा
(F***-F***-F*** the hook, aanh)
Step up in a party (Ayy), आँखों में Cartier (Ayy)
Tinted रखी गाड़ी
लूँ टीका body में, रखता ना टट्टे देहाड़ी (टट्टे देहाड़ी)
Fan नहीं fam मेरे भाई
दूँ गवाही, सारे monster हैं Gojira Kaiju
Fan इनके brain-dead हैं, trained for the lie
गूँ खाए जो सत्तर से बहत्तर है IQ
इनके दोस्त नहीं, ghost करे write (करे write)
इन्हें सपने में दिखे मेरा भूत (मेरा भूत)
मैंने इतनों को रोटी खिलाई, मेरी ख़ुद की ना मिटी कभी भूख (ना)
सब चाहिए, कब चाहिए? अब चाहिए
भरपाई नहीं पाई-पाई, ग़ज़ब चाहिए
Sky high तो Mike Ty' का जग चाहिए
Fuck a जग, मुझे अब सारा जग चाहिए
(I want the world)
सतह के ऊपर है lava (Lava), सतह के नीचे है magma
कमा लूँ मैं rap से पैसा पर गायब ना होगा ये Jack Ma, ये मेरा महकमा
कभी वो रात आएगी, तुम्हें हर बात कह दूँगा
मेरे अंदर दबा है जो, सभी जज़्बात कह दूँगा
कभी वो रात आएगी (Woo), तुम्हें हर बात कह दूँगा (Grrah)
मेरे अंदर (Aanh) दबा है जो (Aanh), सभी जज़्बात कह दूँगा-गा-गा-गा