Jhonka Hawa Ka Aaj Bhi Lyrics in Hindi. झोंका हवा का आज भी song from Hum Dil De Chuke Sanam 1999. It stars Ajay Devgan, Salman Khan, Aishwarya Rai, Vinay Pathak, Vikram Gokhale. Singer of Jhonka Hawa Ka Aaj Bhi is Hariharan, Kavita Krishnamurthy. Lyrics are written by Mehboob Alam Kotwal Music is given by Ismail Darbar
Jhoka Hawa Ka Hindi – Hariharan Kavita Krishnamurthy Lyrics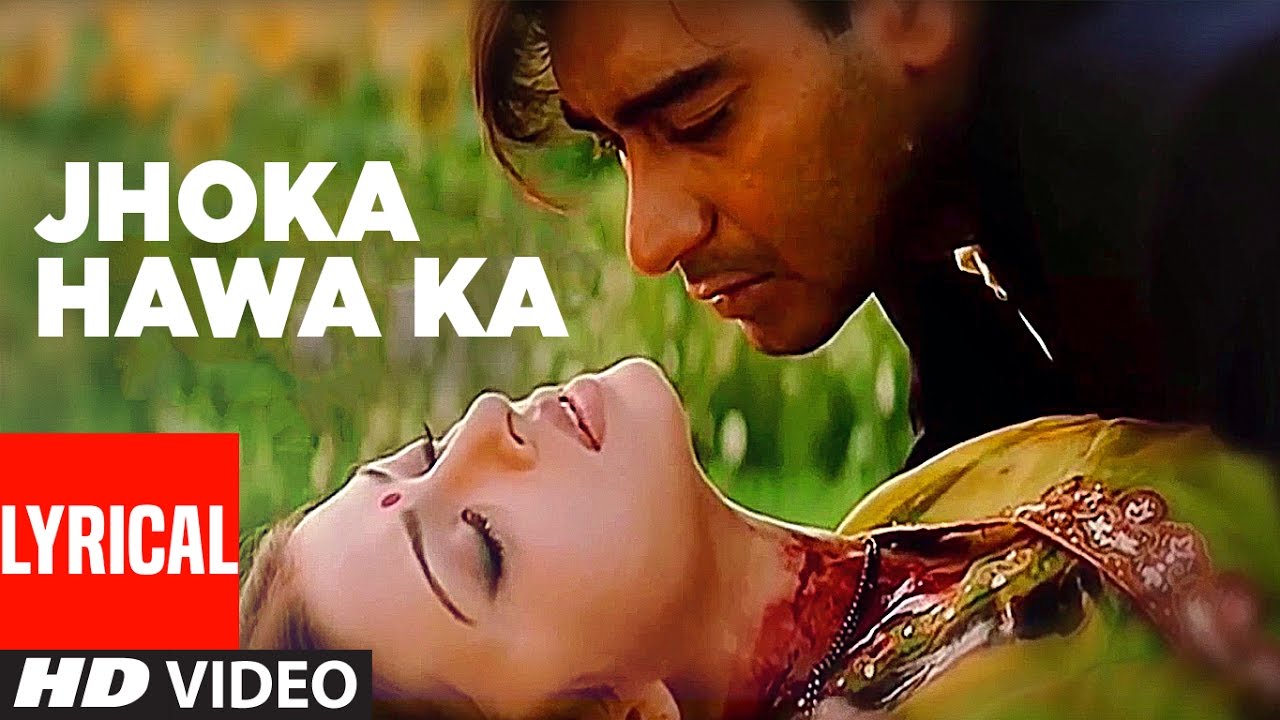 | | |
| --- | --- |
| Singer | Hariharan Kavita Krishnamurthy |
| Music | Ismail Darbar |
| Song Writer | Mehboob |
Jhoka hawa ka aaj bhi
Zulfe udata hoga na
Tera dupattaa aaj bhi tere
Sar se sarakta hoga na
Baalo me tere aaj bhi
Phul koi sajataa hoga na

Thandi hawae raato me
Tujhko thapakiyaan deti hogi na
Chaand ki thandak khwabo me
Tujhko leke to jaati hogi na
Suraj ki kirane subah ko
Teri nide udaati hogi na
Mere khayaalo me sanam
Khud se hi baate karati hogi na
Mai dekhta hun chhup
Chhup ke tumako mahasus karati hogi na
Jhoka hawa ka aaj bhi zulfe udata hoga na

Tadev lagnam suridam tadev
Naarabalam chandra balan tadev
Vidya balam daiv balan tadev
Lakshmi pate tendra yugam swarami
Shubmangal sawadhan

Kagaz pe meri tasveer jaisi
Kuchh to banati hogi na
Ulat palatke dekh ke usko
Jee bhar ke hansti hogi na
Hanste hanste aankhein
Tumhari bhar bhar aati hogi na
Mujhko dhaka tha dhoop mein
Jisse wo aanchal bhigoti hogi na
Saawan ki rimjhim mera
Taraana yaad dilati hogi na
Ek ek meri baatein tumko
Yaad to aati hogi na
Yaad to aati hogi na
Yaad to aati hogi na
Kya tum mere in sab
Sawaalon ka kuchh to jawaab dogi na.
Jhonka Hawa Ka Aaj Bhi Lyrics in Hindi
झोंका हवा का आज भी
जुल्फें उड़ाता होगा ना
तेरा दुपट्टा आज भी तेरे
सर से सरकता होगा ना
बालों में तेरे आज भी
फूल कोई सजता होगा ना

ठंडी हवाए रातों में
तुझको थपकियाँ देती होगी न
चाँद की ठंडक ख्वाबों में
तुझको लेके तो जाती होगी न
सूरज की किरणे सुबह को
तेरी निदे उड़ाती होगी न
मेरे खयालों में सनम
खुद से ही बाते करती होगी न
मै देखता हूँ छुप
छुप के तुमको महसूस कराती होगी न
झोंका हवा का आज भी ज़ुल्फ़े उडाता होगा न

तदेव लग्नं सुरिदम तदेव
नाराबलम चन्द्र बलं तदेव
विद्या बालम दैव बलं तदेव
लक्ष्मी पते तेंद्र युगम स्वरमि
शुबमंगल सावधान
कागज़ पे मेरी तस्वीर जैसी
कुछ तो बनती होगी न
उलट पलटके देख के उसको
जी भर के हंसती होगी न
हँसते हँसते आँखें
तुम्हारी भर भर आती होगी न
मुझको ढका था धुप में
जिससे वो आँचल भिगोती होगी न
सावन की रिमझिम मेरा
तराना याद दिलाती होगी न
एक एक मेरी बातें तुमको
याद तो आती होगी न
याद तो आती होगी न
याद तो आती होगी न
क्या तुम मेरे इन सब
सवालों का कुछ तो जवाब डौगी न.
Found Any Mistake in Lyrics?, Please Report In Contact Section with Correct Lyrics.