Ladka Alag Sa| Emiway Lyrics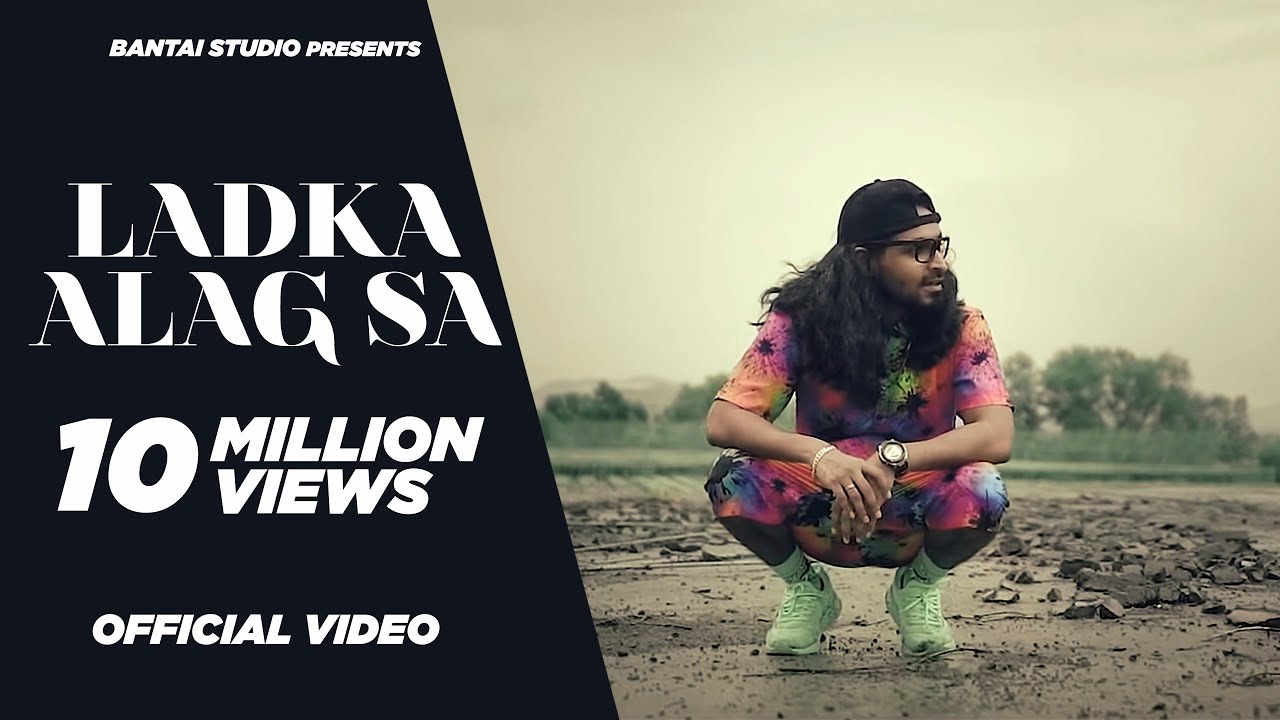 | | |
| --- | --- |
| Song Name | Ladka Alag Sa |
| Singer(s) | Emiway |
| Lyricist(s) | Emiway Banati |
| Music(s) | Flamboy |
| Featuring Stars | Emiway Banati |
| Music Label | Emiway Banati |
 Lyricsknow
Ladka Alag Sa | Emiway Lyrics
Haan Ladka Alag Sa Ye Badlega Naksha Ye
Gaana Jis Din Drop Us Din Pariksha Hai
Mera Surakhsa Hai 24 Ghanta
Sath Me Farishta Hai
Haan Mera Rishta Hai Gehra Kudrat Se
Haq Ki Kamai Khud Rakhte
Kuch Chlte Good Luck Pe
Band Krde Budbak Ke

Haan Galat Dhanda Matlb Galat Banda
Ankhe Hai Fir Bhi Kyu Andha
Duniya Ko Kyu Krra Ganda
Padega Danda Lagega Fanda
Tab Jake Smjhega Tere Ko
Kitna Tu Mand Tha
Chal Be

Mere Ko Ghanta Farak Hai Kisi Se
Ye Line'ae Chape Sirf Tupac Aur Biggie Se
Nakli Log Ko Sirf Bocha Dega Rikishi
Message's Karti Hai Bandiya Pretty Si
Life Hai Mashallah Bolneko Etc
Dhoke Jo Karte Wo

Muh Pe Baatein Karte Meethe Se
Apun Bhi Sadak Ke Bande Hai
Ghumke Ayele Bey Bkc
Lekin Sab Mujhe Bolenge Ki
Emiway Bhadakna Nahi Now
Be Easy Be Easy
Emiway Peace Hai Peace Hai

Yes Man Koshish Toh Kar Rele
Apun Ki Chilayenge Nahi
Wo Toh Hai
Arey Maa Mobile Band
Haan Haan Gussa Aa Raha Itna
Okay!

Main Jee Raha Hu Marji Se Silale Darji Se
Bete Ki Chaddi Fateli Hai
Mai Niklela Beta Yahan Khud Ke Dumpe Haan
Isliey Toh Meri Pateli Hai Bina
Industry Mein Ghusse Hum Kheli Hai
Na Bana Chela Na Rakha Koyi Cheli Main
Gaane Toh Bajrele Har Jagah Har Din
Mudde Toh Banrele Daily Hai

Khel Hum Jo Khele Tum Kheliye
Zalim Zamane Ki Taklifey Jheliye
Jholam Jhal K Ginti Mein Main Nahi Hai
Pelam Pal Me Pel Diye
Belan Marke Bel Diye
Chapati Jaise Hum Hater Ko
Pyaar Karo Watchman Aur Waiter Ko
Batista Hai Apun Batista Bomb Dete
Jaa Jake Bhej Undertaker Ko

Wahi Sahi Hai Jiske
Dil Mein Kuch Nahi Hai (Kasam Se)
Gadi Chalegi Yeh Nahi Chaiye Paiye
Duniya Mei Bharele Kafi Chapaiye
Chal Be Papaiye
Rapper Nai Saucer Aur Cup Haiye
Pee Ke Fika Dunga Dhone Ko Sarpe Ye
Fatka Padega Jab Lukhe Ye Janenge
Apne Se Milne Ko Kitne Log Intezaar Pe

Mere Bare Bura Bola Chocobar Le
Itna Jyada Famous Hu Mai Ghumta Bar Mein
Sabko Bhad Me Feko Inko Toh Dekho
Apne He Logo Se Apas Mein Sadgai Hai
Sadgai Hai

Insaaniyat Mar Gai Hai
Mahilaye Raste Pe Chalne Ko
Kahe Ko Toh Dar Gai Hai Kyun
Khane Ko Khana Nai Abaadi Badh Gayi Hai

Laga De Laga De Baa
Lagade Baaa Sablog Ki Lagade Baa
Haan Haan
Lagade Baa Inlog Ki Lagade Baa
Andar Ki Bujha De Aag
Jiska Bhala Kare Usko Nahi Yaad
Duniya Barbaad

Lagade Baa Inlog Ki Lagade Baa
Andar Ki Bujhade Aag
Jiska Bhala Kare Usko Nahi Yaad
Duniya Barbaad

Gussa Arah Itna Ghussa Hai Khandani
Palti Jo Mare Be Usko Main Janta Nahi
Google Pe Mar Search Milegi Jankari
Jaan Pyari Hai Toh Nai Jeena Udhari Mein
Zehrila Sanp Hu Be Khudka Maddari Main
Karta Gaddari Main Kabhi Nahi
Abhi Nai Kiya Toh Kabhi Nahi
Shuru Toh Kar

Kamyabi Milega Dheere Dheere Beta
Tabhi Ke Tabhi Nahi
Sabhi Nahi Bolenge Tere Baaton Pe
Haan Tabhi Nahi
Khona Tu Khudpe Bharosa
Aisa Koi Kamyab Insaan He Nahi Hai
Jisko Kabhi Kisine Nahi Kosa
Tera Bhai Dhosa Ka Shaukin Hai

Haan Aas Pas Khas Mere 2 3 Hain
Aur Bhi Hai Public Dil Me Jo Baste Hai
Baki K Logo Ko Kyu Gine
Kyun, Kyun?
Bahot Aye Boht Gaye Boht Din Hai
Koyi Karta Garda Koi Cocaine Hai

Ladka Bahot Vella Boht Shaukin Hai
Barso Se Karra Hiphop
Haa Bache Masti Karne Aa Rahe Mere Paas
Rok Inhe Ruk

Rukja Baawa Masti Nai
Ye Koyi Kashti Nai Ki
Jo Bhi Aave Chad Jaave Baawa
Bantai Ki Public Aur Bantai Se Masti Nahi
Apun Sachai Bolte
Aur Sachai Toh Kisi Ko Pachti Nahi

Ha Ha Ha
Peace Out!


YouTube Video
 Lyricsknow
Found Any Mistake in Lyrics?, Please Report In Contact Section with Correct Lyrics